So our dear Warhammer 40k is twenty three years old, and the world is a much different place from those times. The Cold War is over, Thatcherism is gone in the UK, and technology has advanced quite apace. We have global communication on devices the size of your palm, cloning, mapping the human genome and reality television.
So how does this change the game?
Well, surprisingly, not much has changed. The Tau have been introduced in what many called a cynical cash-in on the explosion of the Anime market. Necrons and Dark Eldar appeared, but there haven't been any great changes to the universe.
While we here enjoy the internet and tiny, touch screen phones to communicate globally (and tweet from space) that do more than any one device of 87 (unless you count a whole house as a 'device'), the 40k guys still use radios with limited range to do everything.
vs

Obvioulsy a large part of this is scalability and modelling issues (but this is all about aesthetic [more on that later]) , but where are the tiny cybernetically implanted vox units that can contact orbiting ships? Where is the planetary, or even system wide, communication network? The seeds are there in the background, but it seems as if it all gets lost in the GRIMDARK(tm).
In the very back of the original Rogue Trader book there is a little section on the technology of the 41st millennium (page 267 for you grognards). It mentions that units built using atomic stacks, needing to only be as big as functionality necessitates. It also talks about phased crystal transmission, photon lines (super fibre optics), Sucrosol (a sucrose based cybernetic blood), holographic interfaces and more.
One particularly interesting one is the Electoo – a crystal stack implanted in the body to carry information. A further version of this is the Electrograft – an electoo implanted straight into the brain to impart knowledge ("I know kung-fu!").
So there were variations of nanotech, bioengineering, advanced touch screens and RFID type devices. So where'd they all go? Why is it all flying buttresses made from skulls in the shape of a bigger skull? 40k (and in particular the Mechanicus) got stupid.
By that I mean when it started, 40k was basically a satirical rip on society and stole most of its base ideas from
Dune
and Fantasy:
Marines – Sardaukar
Navigators – Navigators
God Emperor – God Emperor
Religion devoted to said God Emp - Religion devoted to said God Emp
Chainsaw swords in a sci-fi world – Chrys knives / sword masters
And so on.
Not a bad thing, but as it grew and evolved on its own the unique aspects of the setting became accentuated:
Skulls
Nihilism
Relentless suffering
Skulls
Gothicness
Skulls
Way back when in 1987 the world was a pretty sucky place if you were a nerd – sci-fi, comics and fantasy were still super un-cool, and very much underground to what they are now. In the UK there had just been the 86 London garbage strike, the heightened tension of the Cold War, and recovery from a serious recession (listen to
London's Calling
and replace London with The Imperium). Nihilism was in. But even then it still had a slightly upbeat feel – this was "There is no time for peace. No respite, no forgiveness. There is only WAR". Sure, war was eternal, but it could be won. Contrast with "In the GRIM DARKNESS of the far future, there is only war." An end sounds less possible.
What does this have to do with the Mechanicus? Well in Rogue Trader, they were pretty smart (and wore white robes BTW), and liked researching and inventing things: "Their devotion to technical research... dabblers in the
old sciences
..." (RT pg139).
The mysticism was still there, but it was subtler than it is now. For instance you still have to chant and say prayers to a machine's spirit to get it going, but it is more in the vein of a gamer's superstition about their dice staying lucky (nobody touches them but me, blowing on them 'for luck', rolling in a certain order etc). The same as Marines would paint kill markings on their bolters – so the weapon's spirit is honoured, and it continues to be filled with wrath. It was basically 'gotta work with the spirits or I'll be hit with bad mojo'.
It meant stuff could get done, like not having society fall apart. The modern view was satirised brilliantly in
Mechanicum
when Zeth lectures Dalia about the idiocy of thinking a light switch is spiritual.
We live in a society where technology is omni-present, so having a sci-fi universe with technology backwards from our own is... odd to say the least. Well, that's not entirely true. The technology is there in theory, but we never see any of it.
Make everything look fancier too – boxes are very 80's. Now it's all sleek lines and curving shapes. Look at a lasgun:
Look at this gun:
It's a modern assault rifle. Which looks like it's from the future?
The same can be said for the designs of the guard themselves. Obviously moulding limitations exist, but they're very bland to be honest. Nothing about them really screams '38,000 years in the future!'. Even with the GRIMDARKness taken into account, there's still something missing. The Krieg guys have some cool steampunkish lasrifles – I think the 'regular' guard need a dose of that mixed with the FELIN kit:
+
Armour tech is supposedly super advanced – many forums arguments have been made that 40k body armour could stop a modern machine guns and even light autocannons with no problem (though many dispute this of course). Either way, it doesn't look futuristic in the slightest. Not even in a 'we have super tech but can't use it way'. Something Gears of Warish:
or a grungier version of Mass Effect (more tubes and skulls):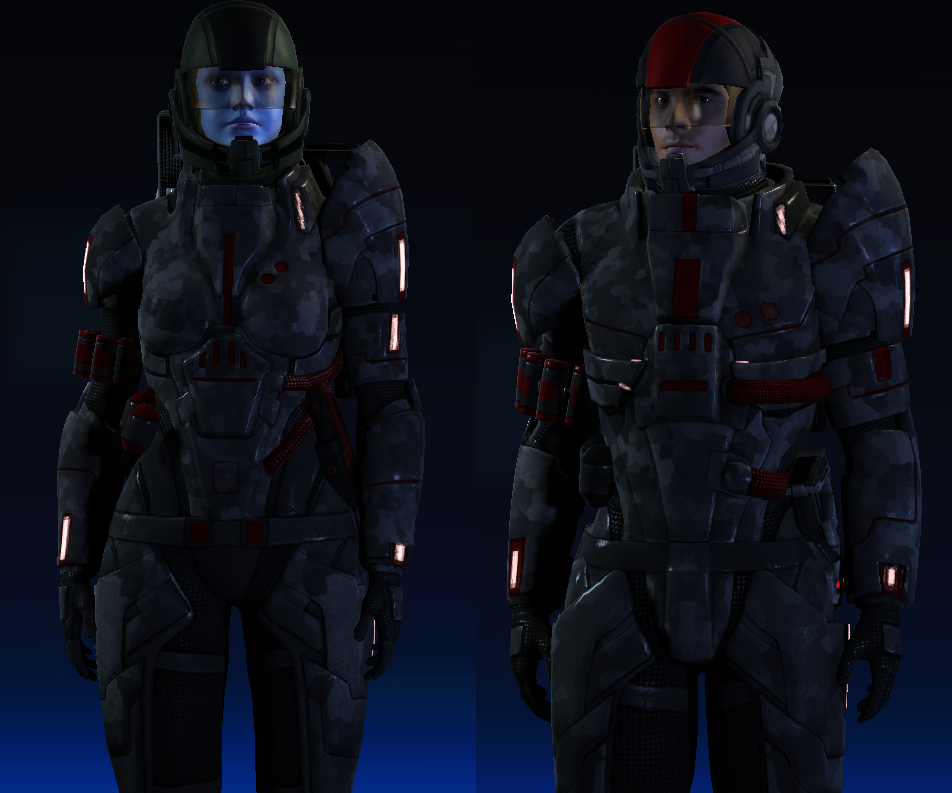 I mean they really look like they're from the future. So, without further ado:
REDESIGN POINT 1: MORE COOL, SHINY TECHNOLOGY SO I KNOW I'M IN THE FUTURE
Glowing holo interfaces, electoos, glowing information cables connecting mega-cities. The Imperium still feels stuck in the past - I half expect characters in the novels to reach for rotary phones sometimes... as the hippy in the Simpsons said "Looks like someone's living in the past! Contemporise man!"
And un-brainwash/de-stupify the Mechanicum while you're at it. Having them suspicious of untested/new tech, constantly searching for a master STC unit etc is all good – just have them use their brains once in a while.
This religious aspect ties in to my next point. The, er, religion of the Imperium. We're told that everyone is fanatically devoted to the Emperor and the Ecclesiarchy is ever-present and so forth. Except, much like the tech, you'd hardly know it. In what will be a rare game comparison, look at the Guard Codex. You can take a Priest, representing the many religious units across the galaxy (Valhallans, Tallarnians), and... that's it. He doesn't even do much. Even the models are lacking in any religious symbols.
In Fantasy the Empire generals can't go without bucket loads of comets, hammers and Sigmar vanity barding. The troops carry religious icons into battle, and there are special fanatical units all on their own (Flagellants).
40k either needs to bring in more of this or return to the view that the Ecclesiarchy is omni-present and powerful, but for the large part the populace doesn't give a crap, being more concerned with their own survival. I'd go with option 2 myself, but that's just me. Any redone Witch Hunters codex may partially resolve this, but if religion is truly a part of all Imperial citizen's lives, it needs to be in
ALL
Imperial books.
POINT 2: MAKE UP YOUR MINDS ABOUT THE ECCLESIARCHY ALREADY!
The next one is unrelated to the others in the most part – the scale issue. Example, the Second War for Armageddon:
"The main war lasted for two years, but the actual combat continued for the next twenty years, a colossal effort for just one planet."
Twenty years to retake a planet is colossal? Well, they do have a thousand Marines taking a planet in a week, so I suppose so...
Just as a frame of reference, it took 28,000 British soldiers 74 days to retake the Falklands. The Germans and Russians had over a million men involved in the battle for Stalingrad alone. The Allies committed in the area of 175,000 to the first day of the Normandy invasions. Eritrea fought for thirty years against Etheopia for independance.
Just look at the numbers on any First World War battle to get an idea of how ludicrously small the numbers in 40k are. Hell, the Athenians had 10,000 guys at Marathon for crying out loud.
Mass Effect 2 has a moment where one character tells the player he received an email from his nephew, and that it is important to him. He says it is important as it gives him a frame of reference, as it is impossible to visualise all the people in the galaxy, but he can visualise (and fight for)his nephew. 40k writers need to realise how many people there are, and multiply everything they do by about a hundred or so.
Fear The Alien
has an Ork force big enough to take a Hive (populations in the uncountable millions) funnelled through a single valley and distracted by a single fortress. Yeah... maybe not.
POINT 3: THE GALAXY IS A LOT BIGGER THAN YOU THINK – YOU NEED MORE GUYS
TO TAKE IT ON
First up, I'd shrink the Imperium. Maybe have it cover a quarter to a third of the galaxy. A big chunk around Terra, then a strip between the galactic core and the Orks of Charadon, then a smaller blob around the Eastern fringe and Maccragge.
This means that the Imperium, while still under siege, can be expanding into unknown space. I think that is part of why the Horus Heresy series is so popular – the Marines (and humanity) are heroically sticking it to the galaxy. In the 41st millennium they're patching the cracks more than being heroic. Whilst grim and dark, I like my escapism to be fun and exciting, not a depressing reminder about the transient nature of our achievements.
"My name is Ozymandias, king of kings:
Look on my works, ye Mighty, and despair!"
Nothing beside remains. Round the decay
Of that colossal wreck, boundless and bare
The lone and level sands stretch far away.
Secondly, a million Marine chapters of 1000 each. So what if an entire Chapter masses outside your city to assault it. Escape on your private yacht of evil and drop a nuke on them. 1000 dudes don't take up much space, so they'll all be in the central blast area and be instantly vapourised.
You wouldn't send a single regiment to re-take a planet, you'd send five hundred battle groups each made of hordes of regiments.
SUMMARY: REALITY HAS MOVED ON
,
40k NEEDS TO KEEP UP
...
or it'll become dated like 70s and 80s (and even 90s now) sci-fi. Rollerball, Logan's Run, Soylent Green, Farenheit 451 all have 'lol, it's "the future"' moments - pay phones, reel to reel computers, flares, women introducing themselves as "Mrs John Smith".
The other, potentially worse, possability is that 40k will end up becoming a parody of itself, without realising it. 3rd edition and early 4th were heading that way with the stripped down backgrounds in the Codex, GRIMDARK, and a lot of really stupid changes to the background (Men of Iron, no new plasma weapons/Terminator suits/Dreadnoughts [see my point about numbers earlier]). Things definately seem to be heading away from this, but only time will tell.
I doubt any major changes like I have brought up will happen any time soon, but I sincerely hope 40k marches onward as the real world does.
That's it for now – next up:
Redesigning the Space Marine!
Plus,
what to do with those aliens, and what about the kids?